Lift Table - Products
Model: LTX-H250-8EC, LTX-H550-9EC, LT-H1000-12EC
1) Equipped with a quick-lifting mechanism of which is a standard accessory that will double up the lifting speed.
2) Equipped with an automatic overload check valve.
3) Compact, with small turning radius.
4) Simple in design and accommodates the working environment.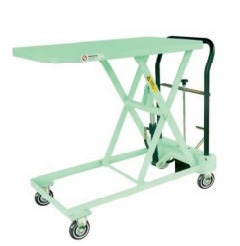 Product Functions
By minimizing undesirable lifting and reaching
Features
Used to lift , load and transfer goods without having to bend the user's body
Customer Benefits
1) Minimise goods damaged
2) To avoid injuries
3) User friendly
4)To increase productivity
Reasons of Design
1) Help increase safey and productivity
2) Efficiency in time, money,energy and wastages.
Suitable Industries
1) Ware house/Storage
2) Pharmaceutical
3) Food
4) Beverage
5) Cosmetic
6) Printing
7) Rubber
8) Electronic
9) Oil/Gas
10) Chemical
Case Studies
(Based on real experience by customers)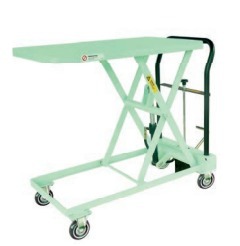 Lift Table , LTX-H250-8EC. A eletronics parts factory in Shah Alam supplying eletronics parts globally around the world. Previously, before purchasing our unit, their staffs manually lifted the product mold weighted around 40kg from the ground and carry up to 60cm high. Besides that, due to the heavy weight, they need to bend down to carry the mold from station A to B. After using our Lift table, they no longer need to bend up or down to carry heavy mold and just pumping a pedal, the unit's table will rise up to the height you need.
SUITABLE FOR TYPES OF PRODUCTS